To power this video card, you definitely won't need an adapter or a new power supply.
On the Chinese forum Chiphell published images of the promising GeForce RTX 4070 graphics card from Inno3D. There are a number of important and extremely interesting points here.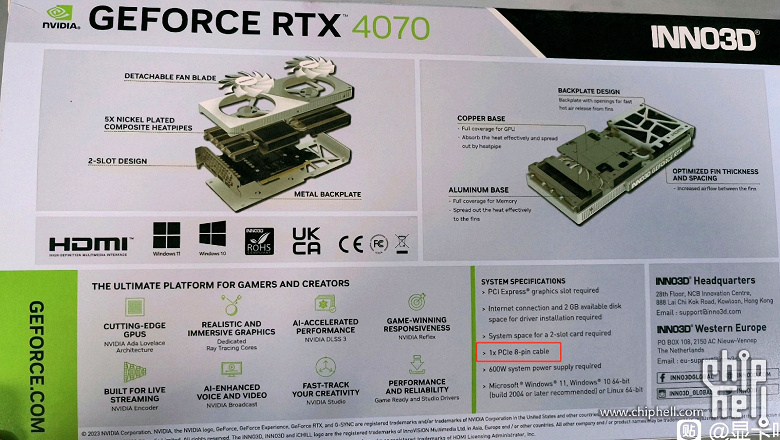 Firstly, judging by the picture, the GeForce RTX 4070 will be the first model in the line to be cooled by two fans. That is, potentially it will be quite compact video cards. The second point is even more interesting: the description says that only one standard 8-pin connector is provided for supplying additional power! So to use it, you don't have to use any adapters, much less buy a new power supply. Moreover, potentially such a card is compatible with even rather weak PSUs.
The first dual-fan graphics card in the GeForce RTX 40 series
Judging by the pictures, this model will also be the first in the series, which does not have a vapor chamber. The cooling system here is quite simple, one might say, traditional: in addition to two fans, a regular aluminum radiator and five heat pipes. However, the copper base is large in area – it clearly covers both the GPU and the memory chips.
According to rumors, this model may also have a more powerful version: it will also be called the GeForce RTX 4070, but it will receive power from the already familiar 12VHPWR 16-pin connector. Accordingly, there will be slightly higher TDP (225 W versus 200 W for the regular version), performance and price.
`
It is assumed that the GeFroce RTX 4070 will be based on the AD104-25X GPU with 5888 CUDA cores. The amount of GDDR6X memory will be 12 GB, the memory bus width is 192 bits. The GeForce RTX 4070 is rumored to go on sale on April 13, with reviews posted the day before.