Abbott issues a response to the DOJ's warning regarding the border lawsuit
In a letter, the DOJ cited the "unlawful construction of a floating barrier in the Rio Grande River."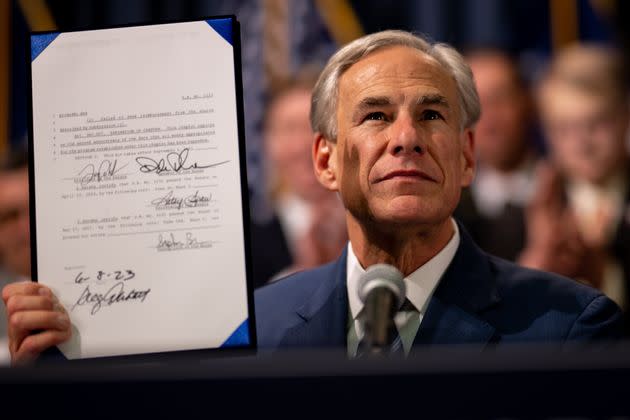 The Department of Justice (DOJ) is planning to sue Texas for deploying a floating barricade at the southern border, as stated in a letter addressed to Texas Governor Greg Abbott, obtained by POLITICO.
In response, Governor Abbott defiantly declared, "I'll see you in court, Mr. President."
The DOJ's letter on Thursday cited the "unlawful construction of a floating barrier in the Rio Grande River," expressing concerns that it might hinder the federal government's official duties.
However, the letter did not address migrant-related concerns at the Texas-Mexico border directly. Nonetheless, DOJ spokesperson Xochitl Hinojosa stated on Friday that the department is aware of troubling reports and is working with relevant agencies to assess the situation.
White House Assistant Press Secretary Abdullah Hasan later assured reporters on Friday that President Joe Biden's border policies are effective, and illegal immigration has decreased to the lowest levels in over two years.
`
Hasan criticized Governor Abbott's actions, stating they undermine border enforcement efforts and put both migrants and border agents in danger. The DOJ made it clear that they are prepared to take the governor to court if the unlawful structures in the Rio Grande are not removed promptly.
In response to the concerns about Operation Lone Star, Governor Abbott tweeted on Friday, shifting blame to President Biden and emphasizing that Texas is taking steps to address the crisis. He attributed the humanitarian crisis at the border to Biden's refusal to secure it, claiming that open border policies encourage migrants to risk their lives crossing illegally through the Rio Grande.
This political clash is the latest in an ongoing battle over border policies between Republican governors and the Biden administration. Governor Abbott, along with Florida Governor Ron DeSantis, has been sending migrants to Democratic-led cities as a form of protest against federal immigration policies.
Reports have also surfaced about National Guard and Texas Department of Public Safety troops allegedly being ordered to push migrant children into the Rio Grande River and withhold water from migrants experiencing heat exhaustion. Additionally, incidents involving migrants being injured by razor wire placed along an unsanctioned, makeshift buoy wall in the Rio Grande, including a pregnant woman having a miscarriage and a teen breaking their leg while attempting to cross the wire, have been detailed in the San Antonio Express-News.