At the core of Cezanne's mobile core
Previously, the Ryzen 5 5600X3D processor was spotted on the Web, which may soon enter the market, but now new data suggests that we can expect another new CPU of the Ryzen 5000 line. 7 5700.

Recall that the line now has Ryzen 7 5700X, 5700G and 5700GE. The Ryzen 7 5700 model, despite the name, is a relative of the Ryzen 7 5700G/GE, not the Ryzen 7 5700X. That is, this is a model of the Cezanne line, which relies on a mobile monolithic crystal. Only the Ryzen 7 5700 has iGPU disabled.
Is this the new cheapest octa-core Ryzen 5000?
The processor has eight cores, supports SMT, has 16 MB of third-level cache and operates at frequencies of 3.7-4.6 GHz. Its TDP is 65W.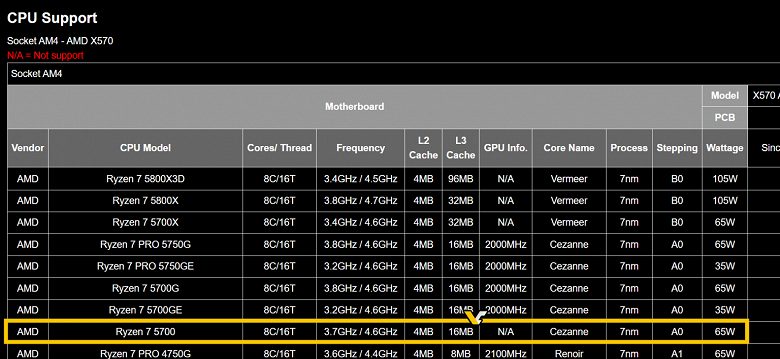 Given the parameters, the Ryzen 7 5700 may be the most affordable eight-core CPU in its line, which is still very popular due to low prices.