But this requires DLSS 3 and frame generation
The first test results of the GeForce RTX 4060 in games have appeared on the Web. As a reminder, yesterday we published the results in 3DMark , but the game data is much more useful. It's worth saying right away that these are not some kind of leaks: Nvidia simply partially lifted the embargo on the publication of reviews, allowing only one game to share data.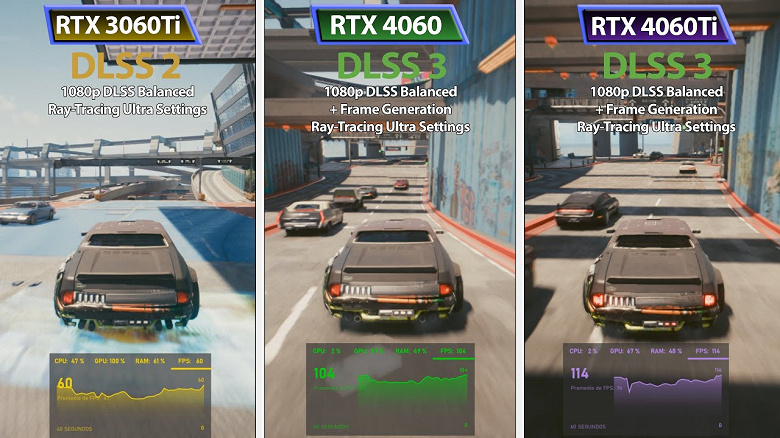 For testing, Cyberpunk 2077 was chosen as one of the most demanding games at the moment. And, as you can see, in Full HD, the new Nvidia handles the game without any problems. According to the JayzTwoCents channel, without the activation of frame generation technology, as well as without ray tracing, the novelty provides an average of 81 fps. This is very good in itself, and given that the RTX 3060 produces 64 fps, that is, there is an increase of 27%, which is very, very good. The RTX 3060 Ti, for comparison, shows a result of 92 fps, that is, the RTX 4060 is very close to it. The RTX 4060 Ti hits 101 fps, making it 25% faster than the RTX 4060 for a 33% price difference.  
Official GeForce RTX 4060 benchmarks in Cyberpunk 2077 published.
It is worth noting here that all these results were obtained with active DLSS, and in the case of the RTX 4060, DLSS 3 is used, and for the RTX 3060, this, of course, is DLSS 2. Because of this, the comparison of cards is conditional, since the new technology provides a larger increase, than the old one. But here is the RTX 4060 and RTX 4060 Ti in this form to compare as correctly as possible. 
`
Interestingly, according to the ElAnalistaDeBits channel, the RTX 4060 performs identically to the RTX 4060 Ti when ray tracing and frame generation are enabled under DLSS 3. In addition, we are talking about 100 fps, which is impressive for a $ 300 card. 
Thus, we still cannot compare the RtX 4060 with the RTX 3060 without DLSS 3, but with this technology in mind, the novelty looks very worthy.