And in terms of performance, the AMD model outperforms the new Nvidia
AMD graphics cards continue to get cheaper, but this applies not only to the latest Radeon RX 7900 XT and Radeon RX 7900 XTX, but also to the well-deserved ex-flagship Radeon RX 6950 XT: the cost of this model in the US has dropped to $600. That is, now the GeForce RTX 4070 (and not only Founders Edition, but also partner versions) and the Radeon RX 6950 XT (represented by ASRock Radeon RX 6950XT Phantom Gaming) cost exactly the same.

ASRock RX 6950 XT, recall, was released not so long ago – in May 2022, and was offered at the start for $ 1,100. It turns out that in a little less than a year, its cost has decreased by an impressive $ 500. As for the ASRock model itself, it operates at slightly increased frequencies: the gaming one is 2166 MHz, the frequency in Boost mode is 2324 MHz.
GeForce RTX 4070 and Radeon RX 6950 XT have one thing in common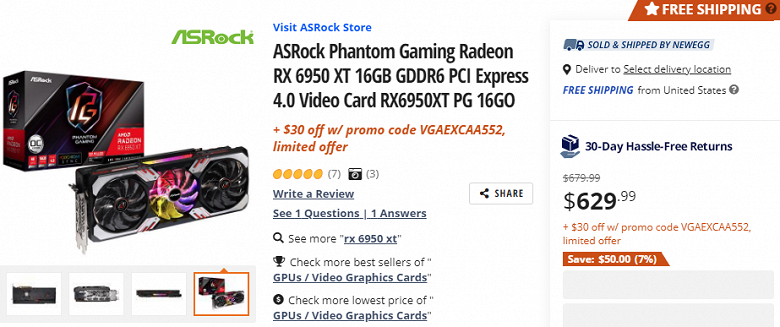 According to the characteristics of the Radeon RX 6950 XT, it outperforms the GeForce RTX 4070: after all, 16 GB of memory and a 384-bit bus versus 12 GB of memory and a 192-bit bus. And this manifests itself in games: according to Techpowerup tests, the Radeon RX 6900 XT is about 6% faster than the GeForce RTX 4070, which means the Radeon RX 6950 XT should be somewhere around 10% faster (and the higher the resolution, the greater the advantage of the former AMD flagships) . But the GeForce RTX 4070 also has its trump cards – this is DLSS3 support and low power consumption (200 W versus 335 W for the "red" video card).