Nvidia card is always faster
The authors of the Testing Games channel decided to once again bring the GeForce RTX 4090 and Radeon RX 7900 XTX into battle, but this time in 8K resolution.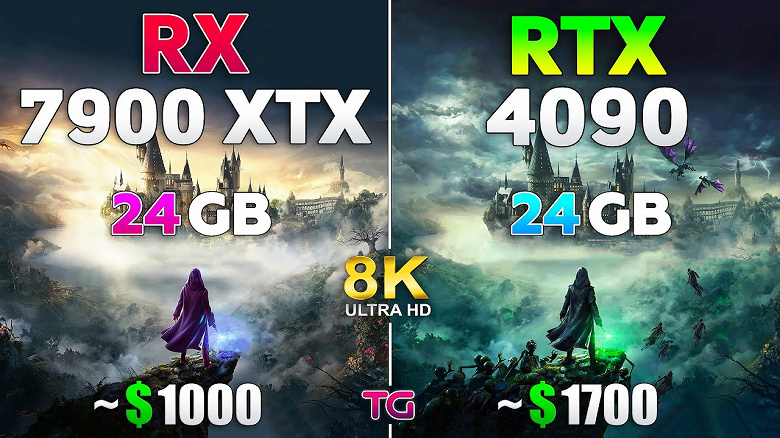 The cards were tested in only eight games, but these are games of different genres, on different engines and different years of release. Interestingly, in most of them, the results of each of the cards were approximately the same.  
GeForce RTX 4090 vs Radeon RX 7900 XTX at 8K.
In all games, the AMD flagship is noticeably inferior to the Nvidia flagship. At the same time, in some games, the difference is still uncritical in terms of results in absolute terms. For example, in Hitman 3, the RX 7900 XTX adapter averages 37 fps, while the RTX 4090 already delivers 45 fps. The difference is rather big, but for gamers it is not particularly critical in practice. But in Spider-Man Miles Morales, the AMD card only delivers about 28 fps, while the Nvidia model shows a result of 37 fps, and this difference is already important for gamers, since 28 fps is even lower than usual console threshold of 30 fps. Interestingly, this particular game turned out to be the most demanding among those tested in 8K, although at lower resolutions it works well even on inexpensive video cards. 
`
In general, you can see that the current AMD and Nvidia flagships are already capable of handling modern 8K games, especially when FSR or DLSS is activated in particularly demanding projects. But at the same time, at the maximum graphics quality settings, you should not expect 60 fps or more, unless we are talking about some older and less demanding games.